We offer investments to fit everyone: individuals, congregations, and kids too! Please review our various investments and current interest rates and decide for yourself which one is right for you. Or call one of our Investor Services Representatives at 888-951-1233 for assistance. When you're ready to get started, you can download an application.
Investments for Individuals
Flex Savings
Flex Savings investments are a great short-term investment. The minimum balance requirement is only $10. Investments and withdrawals can be made at any time without penalty. These are particularly good investments for children and grandchildren. Filled books of K.I.D.S. stamps or checks can be mailed in to add to these investments.
Rainy Day Fund
This is a savings plan that permits additions to the initial investment (minimum of $25). This plan requires a monthly EFT (Electronic Funds Transfer) investment of at least $25 until the balance in the investment reaches $10,000. Withdrawal payments are limited to 5 per year. The interest rate will be at least ¼ of a percent above the Flex Savings rate for the first $10,000 and will pay the Flex Savings rate on any amount above $10,000.  A recurring EFT investment of at least $25 per month is required to receive the premium rate unless the balance is above $10,000. If this condition is not met, the investment will convert to a Flex Savings investment. Deposit receipts are mailed each month after the deposit date. Initial funds must be new and not a transfer from an existing CEF investment. Limit one per household.
Fixed-Rate Term Notes
One-year, three-year and five-year fixed rate notes are available with a minimum investment of $500. Rates for these notes are fixed at the time the investment is opened. Additions may be added at maturity. Funds may be withdrawn at maturity without penalty. The early withdrawal charge is equal to three month's interest for one-year and three-year notes and six month's interest for five-year notes.
Investments for Congregations
Congregation Savings
Designed to provide a short-term investment vehicle for congregation funds. The investment features a variable interest rate, monthly compounding of interest and monthly statements. Additional investments and withdrawals may be made at any time, in any amount, without penalty.
Building Fund
Designed to provide an investment vehicle for congregations accumulating funds for a building project. The investment features a variable interest rate, monthly compounding of interest and monthly statements. Additional investments may be made at any time, in any amount. Withdrawals for building projects may be made at any time, without penalty. A substantial interest penalty is charged for withdrawals for any other purpose.
Important Forms and Publications for Investors
Click on one of the forms below to download it. Our typeable forms can be filled out using a PDF reader such as Adobe Reader. Print, sign, and mail completed forms to us at:
Texas CEF
7900 East Highway 290
Austin, TX 78724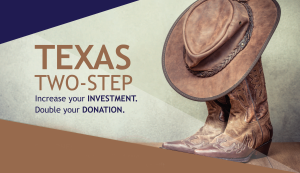 Texas Two-Step
Texas Church Extension Fund and Texas Partners in Mission are pairing up to increase financial resources available for starting new ministries in Texas. Every dollar contributed to Texas Partners in Mission goes directly to support missions in the Texas District.
STEP ONE:
An investor opens a new fixed-rate investment of $5,000 or more and gives a gift of at least 10% of the initial investment amount to Texas Partners in Mission.
STEP TWO:
Texas District Church Extension Fund will match the gift 100% to Texas Partners in Mission AND will pay a bonus 1% interest rate for the initial term of the investment.
K.I.D.S. Stamp Program
(Kids Into Discipleship and Stewardship)
One way that young people can actively support the ministry is through Texas CEF's KIDS Stamp Program. This program, offered in day schools and Sunday Schools, allows children to purchase stamps that can be exchanged for CEF investments upon completion of a stamp booklet. Kids also learn the benefits of saving while getting involved in the ministry. Hundreds of young people throughout Texas are participating in the ministry of CEF, learning biblical stewardship principles, and saving for the future through the KIDS Stamp Program.
Savings Incentives
With each investment of $10 or more, a child receives a sticker and a token worth 25 cents toward their next investment. We provide a 25 cent token and a prize for investments of $10 or more until the account reaches $500. It is an even greater joy for stewards of any age to watch the church grow.
What's Next?
To learn more, contact us at 888-951-1233 (toll free) or 512-646-1233 or email invest@texascef.org.
Super Savers
Super Savers is an intentional and age appropriate program that teaches children ages 5-18 financial responsibility, stewardship, and discipleship.
Super Starters: Ages 5-7
Super Stars: Ages 8-11
Super Stewards: Ages 12-18
How it works:
Every year, a Super Saver can earn special certificates as they reach savings levels annually as well as when they meet their savings goal for the year. Plus, all Super Savers can enter quarterly contests to win prizes! Click here for full details.
Have questions? Please contact us at invest@texascef.org or 1-888-951-1233.
What is My Texas CEF?
My Texas CEF is a free secure online service in which investors and borrowers can quickly access Texas CEF investment and loan information, as well as set up transactions.
My Texas CEF promotes the good stewardship of resources. By using this financial service, you help us reduce administrative costs, which in turn allow us to keep loan rates to churches as low as possible. Enjoy the ease and convenience of accessing your Texas CEF investment information—anywhere you have Internet access!
Highlights Include:
View real time transactions

View history and balances

Change your contact information

Purchase new investments

Set up electronic funds transfers
Enroll Now
Individual investors may register by calling 888-951-1233 or by completing the Individual Enrollment Form. Mail the completed form to:
7900 E Hwy 290, Austin, TX 78724
Once Texas CEF receives the enrollment form, a My Texas CEF personalized Activation Code will be issued by Texas CEF. The investor will be notified by phone. A joint account holder wanting My Texas CEF access must complete a separate request.