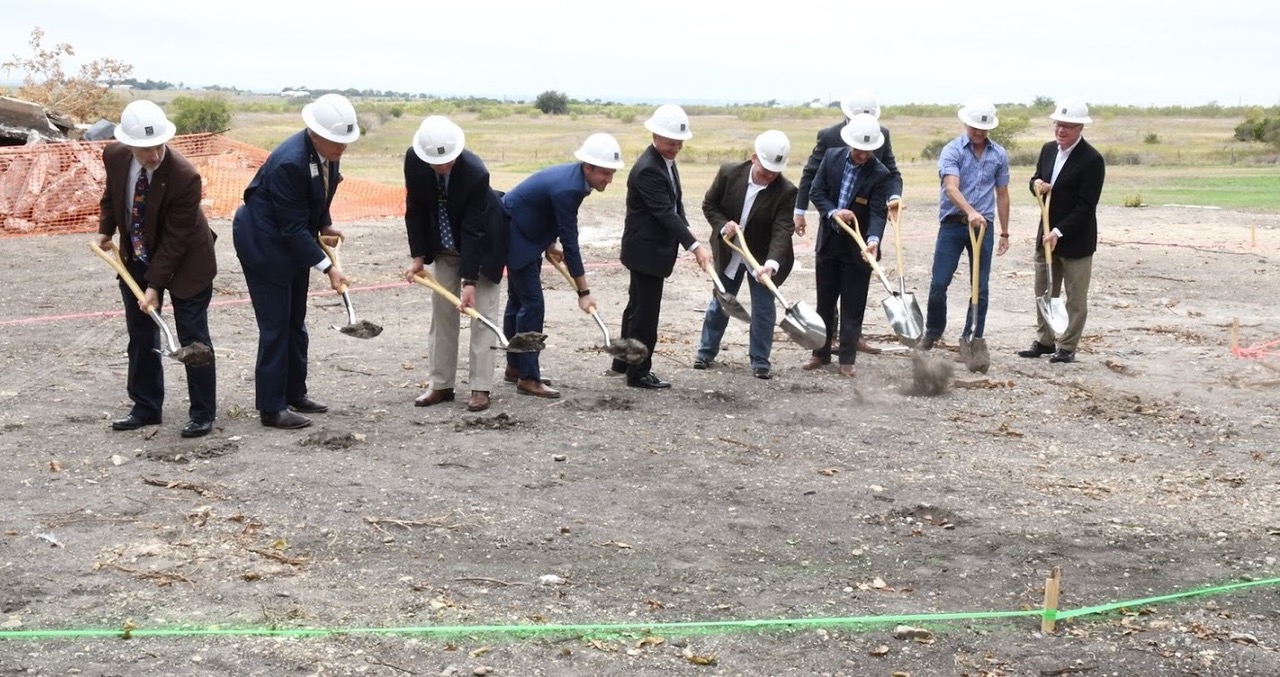 "Zion is eager to multiply ministry in Jesus' name on and from this hilltop" – Pastor John Davenport
On Sunday, October 20, Zion Lutheran Church in Walburg celebrated the groundbreaking for their newest additions: a multi-use worship space, a foyer/narthex, and increased parking. Pastor John Davenport and the members of Zion recognize how fast Central Texas, specifically Williamson County, is growing. Their heart's desire is that is that no one would leave this earth not knowing Jesus.
Pastor Davenport believes this new venture is going to create a meaningful experience of worship. As he told us, "We are not building for 2020, but for 2050! We anticipate a modern flexible worship structure that invites guests and members alike into a spacious foyer with beautiful natural light, information screens, a welcome center, a coffee bar, increased seating, and more."
In the foyer, members and visitors alike will be greeted by friendly 'hosts' who can respond to questions (directions, bathroom, nursery, etc.). This foyer could easily hold events and receptions because it has access to the nearby catering kitchen. Guests will not have to walk far before they can enter the Worship/Performing Arts Center. More natural light and a quality lighting system will help set the tones for all activities that take place in the space: worship services, concerts, 'Fireside Chats', guest speakers, or business meetings. The church has prioritized comfortable chairs in a highly flexible arrangement to make every activity that takes place in the center dynamic and customizable.
"The shift is from a 'hospitable hosting' (parking lot, foyer/narthex) setting to a meaningful, modern experience of worship, meditation, music, message, and more!" explained Pastor Davenport.
Texas District Church Extension Fund is excited to be part of Zion's journey. Executive Director Becca Jones joined the congregation for the groundbreaking celebration.
"This is a wonderful season for Zion!" Jones said. "After years of prayer, planning, and communicating, their vision to reach new friends and neighbors with the truth, love, and hope of Jesus Christ is unfolding. The dedication of the church members and commitment from the leadership is phenomenal. The groundbreaking represents the culmination of many meetings, conversations and plans on how the congregation is moving forward in ministry. I'm already looking forward to the dedication service!"
Zion Lutheran Church in Walburg has enjoyed a warm and supportive relationship with Texas District CEF for decades. Their Supporting Investments can attest to this. Their CEF representative, Mr. Slim Noack, has been in this role at Zion for more than 20 years! Mr. Noack continues to enthusiastically encourage members to "invest in eternal things: ministry initiatives for the spreading of the Gospel."